Write your own Manifesto
A new course gives an opportunity for BA students to step into artist's shoes and write their own manifestos.
2019 marked the centennial of the iconic Bauhaus manifesto published in April 1919 by architect Walter Gropius. An event celebrated with many exhibitions in Germany, as well as in the Netherlands, which addressed the artistic and cultural legacy of the Bauhaus and its influence on twentieth century design, architecture, urban planning and art education. For the new Art History/ Arts, Media & Society course, Artists Writings, this event was also a welcome opportunity to take Gropius' manifesto as an example of a genre of artists texts that emerged in the 19th century and since then resulted in an endless stream of manifestos covering as many topics one could think of. Some of the most important art movements from the twentieth century promoted their ideals and ideas in a manifesto; the Dadaists, futurists, and surrealists are but a few examples. Today manifestos are still written such as recently, for instance, the Sustainist manifesto in which a sustainable design is promoted. Besides, many critically and politically informed artists used the manifesto as a means of expression; think, for instance, of the feminist Guerrilla Girls from the late seventies.
As part of the course students participated in a group assignment for which they had to write their own manifesto. On the basis of a shared interest students formed groups just like artists who after all also joined together on the basis of shared ideals. Students were free in choosing their topic. It could concern architecture, paintings, museums, the art world, whatever. The famous manifestos from art history served as a source of inspiration but students had to formulate original ideas for their own manifesto. Since a manifesto is a different kind of text than an academic paper, this assignment also encouraged students to use all their rhetoric skills in writing a text that should convince the reader of the ideals propagated and the statements made. Finding the right tone of voice was important. Some wrote manifestos on the relationship between the arts and the environment and found a tone voice suitable for the serious concerns they wanted to express. Others used a touch of humour, such as the students who wrote the Housewife's Manifesto, which was an ironic take on feminist art.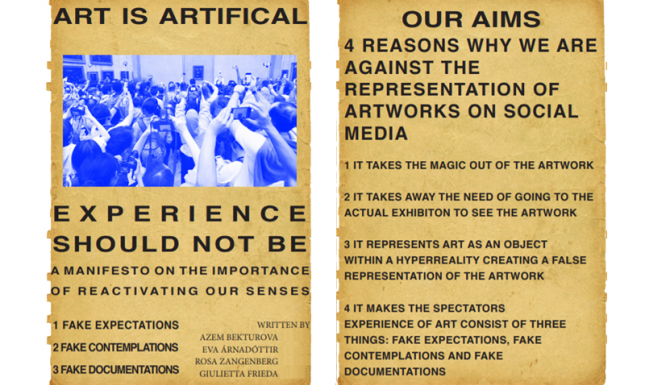 Because a manifesto's purpose is to convince an audience of your revolutionary ideas on art, a manifesto's text is usually supported by visual means such as images, graphs, or a specific kind of typography and graphic design. Manifesto's no longer solely appear in print and therefore the students were also free to choose whatever medium they want.
The assignment resulted in more than twenty fascinating student manifesto's that proved to be a sample of the issues related to art that present day students are concerned with such as art and the environment, gender, feminism, elitism, authenticity, exile, democracy, inclusivity, sustainability, etc.
A selection of those manifestos will be on display in the Kunstgang in the Lipsius building next to room 0.19 until early December.
For those students that will partake in the course this year, enough reason to find inspiration in this year's results. In any case: an assignment to look forward too!